Q: What is Share?
A: Your membership includes free video sharing with non-members! You will receive this prompt to let you know how it works when you log in.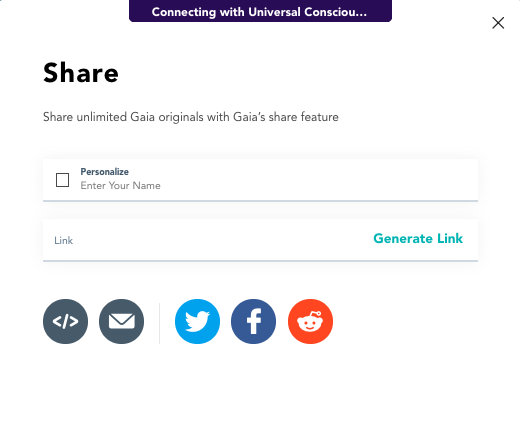 Q: Is this feature available on iOS and Android Devices?
A: Yes. You can share Gaia videos from our app for iOS and Android devices, as well as from www.gaia.com.
Q: How does this feature work?
A:
You can share from the banner or in full video mode. Click 'Share'.
Once you click 'Share,' you will see this:
From here, you can personalize your message.
Full video share includes start at time so you can share your favorite part of the show too!
You can share via Facebook,Twitter, Reddit you can embed the link, or email it directly.
Q: Are all titles available?
A: Some videos are not available in all countries. If that is the case, once the video is shared, they will see this message:
Q: How many shares am I allowed?
A: Shares are unlimited.